The Full Monty
I used to think that if you recognized the foot, then Anthony Zen was for you! But recent trends in millennial comedy seem to suggest that Anthony Zen could be for everyone. Although the stories were originally created in 1989, with extensive additions to this new paperback collection, could this be Anthony Zen's time to shine?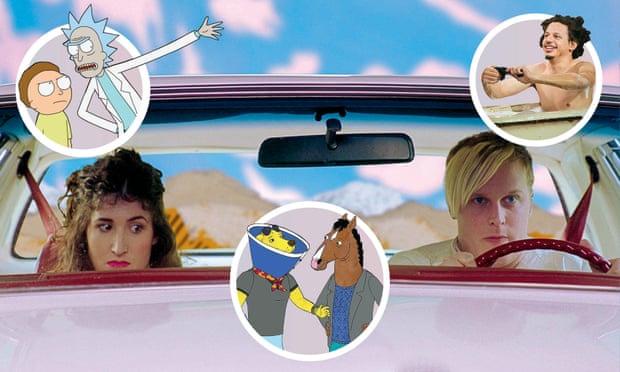 "Horrifyingly Absurd"
A recent article in The Guardian suggests that it is. " 'Horrifyingly absurd': how did millennial comedy get so surreal?" explains how surreal, absurd, chaotic humour is now in vogue. Even Netflix is getting in on the act. Shows like BoJack Horseman, SpongeBob SquarePants, The Simpsons (the old standard that came out one month after the first Zen story was published) and Adult Swim's hits like Rick and Morty demonstrate a strong appetite for my kind of humour! Yours too? Then (before I forget) this announcement is for you!
Anthony Zen Rides the Zeitgeist!
Kadath Press is proud to present The Surreal Adventures of Anthony Zen! Explore the mind of an autistic author with this collection of 23 interconnected short stories featuring a unique blend of wild, absurd, surreal and satirical humour. Release date: July 1, 2020. Can you guess the significance of that date?
Absurd, Absurdism, Absurdist Literature & Theatre of the Absurd
Before I go any further, lets touch on the different meanings and connotations associated with the word "absurd"; it can be confusing! I feel The Guardian article (noted above) used "absurd" to describe work that is weird, silly and nonsensical (nothing wrong with some silly fun!). While not necessarily absurd in the philosophical sense, it could be both.
There are examples of absurdist theatre and literature that function both as deep, reflective commentary on the human condition and feature surreal – at times "silly" – humour. So where does Anthony Zen fit into the scheme of things? Smack dab in the middle; he subscribes to all definitions of "absurdity". Believe it or not, there is more to absurdist humour than just being odd, wild, shocking and off the wall.
Seriously Funny – Stories with Purpose and Intent
The key word is: coping. I use absurd, surreal humour to help me cope. How do you cope?
My motivation for writing this book is to dispel the misconception that autistic people "have no sense of humour" and to suggest, in a fun way, how people can cope in these chaotic, uncertain times with their individuality in tact.
Although the original stories were written nearly two decades before my diagnosis, looking back on them, I can see all the signs of my own private autism – a chaotic, hyperactive, feverishly creative mind making detailed observations regarding seemingly desperate events. Thoughts, ideas, memories, dreams, images, word play and off the wall jokes exploding across the pages, relieving the pressure inside my head. There was a punk rock ethic to it; I threw away the rule book (did I have one?) and just went for it – shock and awe. It wasn't all fun and games; there was also the intense anger and frustration of punk.
Steve Martin put it best: "Comedy Is Not Pretty!". Mine certainly isn't. It sprung from a dark place. But then I realized I could channel it, using my odd sense of humour and rich inner life. I could divert all that negative energy – all my fear, frustration, anxiety and paranoia – into something positive. Thus, Anthony Zen was born. My coping mechanism. My superhero, who raised me above it all. Each sentence I write for Anthony, fills me with joy. I am in the moment. I am reaching out to others. I am sharing. I am laughing out loud – enjoying the process, the surreal flow I am channelling. I like to think others will feel the same, when they read Anthony Zen.
My Own Private Autism
The Surreal Adventures of Anthony Zen invites you inside a unique autistic mind, to see the world through my eyes. Trust me – it's a wild place! But I strive for peace and comfort – a Zen like calm. If you want to look for deeper meaning, social commentary and autistic features, you could; or you could just have a laugh! Anthony has something for everyone.
Who is Anthony Zen?
For years, I have used my wild sense of humour to help me cope with daily life – to reduce the pain, anxiety and frustration. I've come to realize that Anthony Zen is my alter ego – my own private autistic superhero. He's helped me make it this far. Autism has presented challenges. Anthony Zen has helped me surmount them. He's always there – in the back of my mind.
Recently, I shared my life story. I was told that "resilient' kept coming to mind. That made me feel good – accomplished. I'm often asked how I did it – how I got through it all. How did I feel? What did I do? Do I have advice? Luckily, Anthony was always there for me. This isn't' just humour – this is about survival. I use absurd humour and surrealism to dive deep down into my subconscious and come to terms with the environment around me.
I've never came out and said exactly what Anthony Zen looked like. But, having created my alter ego to help myself cope, and use my humour to reach out to others, he had the same hair as I did back in 1989. And I had a crazy, teased mop of dark brown spiky hair! The rest I'll leave up to your imagination!
If you like Monty Python, Franz Kafka, Lewis Carroll, Richard Brautigan and wild cartoons like those on Adult Swim, then this book's for you. Please check it out and help spread the word, because I'm terrible at social media and self promotion (I am autistic, you know!).
As many people have told me in the past, Anthony Zen would make a great cartoon. Maybe with the current trend in humour, I can finally catch a break. One can only hope!
The Purity of Joy
I recently watched this excellent, thought-provoking video:
I agree completely with its (deceptively) simple message: we could use more joy, humour and child-like sense of wonder. We are far too caught up in negativity.
Listening to the analysis of The Gods Must be Crazy, I thought I was listening to a description of Anthony Zen! There are several intriguing similarities; satire of modern life, critiquing the daily grind, talking to animals, innocence, individualized intelligence and playful humour – not harmful. Check it out!
Reviews
Dali would approve. If you're one if those people that never remembers your dreams, fear not, let Anthony Zen take you into his surreal and comical adventures where you'll finally realize what you've been missing out on. Straughan's writing style and vivid imagination make you question whether you're awake and reading or wandering pantless in a dream.
— Lisa A. Tulen
"Reminded me of 'Rhinoceros' – Ionesco. A commentary on the absurdity of the human condition made tolerable only by self-delusion. Shows struggle of individual (Anthony) to maintain his integrity and identity alone in a world where others have succumbed to 'beauty' of brute force, natural energy and/or mindlessness."
— Colette Stevenson
"Your stories reminded me of a cross between Lewis Carroll and Richard Brautigan"
— Larry Logan SATIRE – THE JOURNAL OF CONTEMPORARY SATIRE
"North American authors, with the exception of a few (Kurt Vonnegut Jr., et al.), have very little sense of the absurd, something you've been cultivating, I think."
— C.F. Kennedy DRIFT/NECESSARY PRESS
"I like the cleanness, point of factness and absurdity of your style. You write as though nothing could be more logical than the illogical events you describe. I have grown to have considerable affection for your naive narrator."
— Tim Lander NANAIMO PUBLISHERS CO-OP
"We like the character and the writing."
— The Editors BLOOD AND APHORISMS
"I enjoyed reading all four of your submissions [including the Anthony Zen stories 'Anthony Has Some Fun' and 'Another Day at Work']. You obviously have a well-developed sense of humor."
— Lisa B. Neuberger AMAZING STORIES
"I [found] your Anthony Zen stories funny. In fact, I really enjoyed them. You obviously have a flair for nonsense, and a knack for turning cliches on their heads. The ability to find comic potential in the everyday mundanities of life is pretty rare, and the stuff that good comic writers are made of. I think it's obvious you have this same type of funny bone."
— Tim Bowling FLASH MAGAZINE
Available July 1, 2020 in eBook and Paperback!